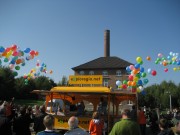 Away from school – learning at authentic places
How can a train float? How does the pollen grain get into the honey? Children and youths can find out the answers to these phenomenons and many other questions themselves. To do so, they only need enthusiasm and curiosity. eXploregio.net, a merger of currently 31 learning locations, is offering the ideal environment for exciting experiments.
eXploregio.net is a cross-border network of extracurricular learning locations in the Euregio-Maas-Rhein region. In their institutions, the partners present natural sciences, technology, and culture from different perspectives in a lively and interesting way. Thus real understanding is created by experiencing and experimenting. This approach is the basis of all offers from the eXploregio.net partners.
Actions of the network
eXploregio.mobil
The eXploregio.mobil is a multi-functional experimenting vehicle in the form of a fold-out trailer. The eXploregion.mobil brings chosen experiments directly into the school-yard. Please read on...
eXploregio.lernfest
Once a year, a big learning festival takes place in which the eXploregio.net partners present exciting experiments for pupils to join in. Please read on...
eXploregio.feriencamps
In the holidays there are camps for different age groups on various topics. Write to info@exploergio.net for up-to-date information.
eXploregio.weiterbildung
Teacher training seminars on various topics are in a planning stage.
from 8 years
-
-
-
from 11 years
-
-
-
-
-
-
-