Discovery Museum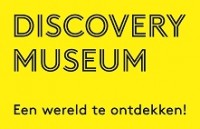 ABOUT CONTINIUM
Enjoy a day filled with special discoveries! Continium is an interactive do- and exploremuseum. Besides the fixed displays, teaching all you need to know about science and technology, we offer a special exhibition about different subjects. Visit the Hall of Fame, take a trip through time in the Warp Theatre and explore how science and technology influence your life, and create a special gadget in the Science lab which you can take home.
Be immersed in the world of space travel and science in the new Reizen in de Ruimte (Travelling through Space) exhibition! till 3d january 2021
Contact
Discovery Museum
Museumplein 2
6461 MA Kerkrade
Niederlande

Telephone: +31-(0)45-5676050
info@discoverymuseum.nl
https://www.discoverymuseum.nl/de/

Contact person
Frau Abteilung Reservierungen
Telephone: +31 (0) 45-5676050
boekingen@museumpleinlimburg.nl

Directions
BY CAR:
Navigate to Museumplein 2, Kerkrade, or follow the signs for Kerkrade-Centrum. Follow the signs 'Continium'. There is a free and spacious P&R car park next to Kerkrade-Centrum railway station (Hambosweg). It is an easy walk from there to Continium, across the railway crossing.
BY TRAIN/BUS:
Bus stop and Kerkrade-Centrum railway station are located next to Continium.
Individual itineraries can be generated via www.9292.nl, train departure times to Kerkrade can be found on www.NS.nl